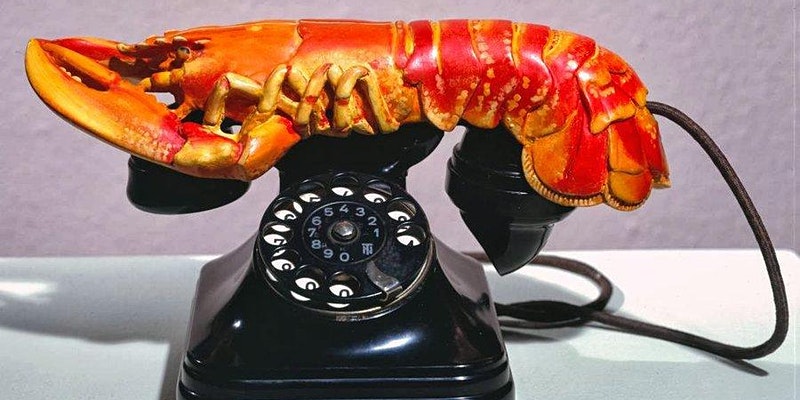 Art Workshop 2/3 – Found Objects /Objetos Encontrados
Found Objects – Experimental Art Workshop /Taller Artístico – Objetos Encontrados [ENG/ESP]
About this event
Descripción en español abajo
Where is the boundary between life and art?
In this unique workshop, the international artist, Hannah Berestizhevsky, will introduce you to the peculiar world of Readymade art.
Found object is art created from objects or products that are not normally considered artistic materials. The idea of dignifying commonplace objects as art was originally a shocking concept. It made it much more difficult to distinguish between what was considered art as opposed to not art.
This workshop invites the imagination to see things from a new point of view. This activity can provoke philosophical reflections ranging from resistance to indifference, empathy, and nostalgia.
◦•◦•◦•◦•◦•◦•◦•◦•◦•◦•◦•◦•◦•◦•◦•◦•◦•◦•◦◦•◦•◦•◦•◦•◦•◦•◦•◦•◦•◦•◦•◦•◦•◦•◦•◦•◦•◦
This workshop consists of 3 parts: theory | production | discussion.
After the theoretical introduction to the concept, the participants will create their Found Object sculpture. Some objects would be provided and others would be brought by the participants.
After the construction of the work, we will share our creations and discuss the contemplations. This workshop also provokes Metaphoric thinking, and the ability to synthesize new mental constructs in creative forms.
◦•◦•◦•◦•◦•◦•◦•◦•◦•◦•◦•◦•◦•◦•◦•◦•◦•◦•◦◦•◦•◦•◦•◦•◦•◦•◦•◦•◦•◦•◦•◦•◦•◦•◦•◦•◦•◦
Student Review: » With great uncertainty, I arrived at this workshop recommended by a couple of friends who knew the artist. With some help, I got comfortable experimenting with objects and making sense of my own creation and how they reflected this I had not foreseen»
◦•◦•◦•◦•◦•◦•◦•◦•◦•◦•◦•◦•◦•◦•◦•◦•◦•◦•◦◦•◦•◦•◦•◦•◦•◦•◦•◦•◦•◦•◦•◦•◦•◦•◦•◦•◦•◦
LOCATION: the upcoming workshop will take place at the top floor of Raima, which is a family-owned art store, specializing in paper and other unique art materials. It's a sociocultural space conceived as a meeting point for artists and creatives. It is a multipurpose room, open, with large windows, terrace, cute bar, and creative space for expression.
Profile:
The painter and performer, Hannah, is a professional award-winning emerging artist, a teacher, a mother, and a friend.  With a Master of Arts (MFA) from the University of Barcelona, Spain. Her works were shown in group and individual exhibitions in Europe and Israel. Currently located in Barcelona, in 2016 opened her studio "MOFUTA studio gallery".
Click here to my personal website: artistic website
————————————–
Descripción en Español:
¿Dónde está el límite entre la vida y el arte?
En este taller único, la artista internacional Hannah Berestizhevsky te introducirá al peculiar mundo del arte Readymade.
«Objeto encontrado» es arte creado a partir de objetos o productos que normalmente no se consideran materiales artísticos. La idea de dignificar los objetos comunes como arte fue originalmente un concepto impactante. Es mucho más difícil distinguir entre lo que se consideraba arte y lo que no se consideraba arte.
Este taller invita a la imaginación a ver las cosas desde un nuevo punto de vista. Esta actividad puede provocar reflexiones filosóficas que van desde la resistencia a la indiferencia, la empatía y la nostalgia.
◦•◦•◦•◦•◦•◦•◦•◦•◦•◦•◦•◦•◦•◦•◦•◦•◦•◦•◦◦•◦•◦•◦•◦•◦•◦•◦•◦•◦•◦•◦•◦•◦•◦•◦•◦•◦•◦
Consiste de 3 partes: teoria | producción | discusión.
Después de la introducción teórica del concepto, los participantes crearán su propia escultura con algunos objetos proporcionados y otros traidos por los asistentes y los participantes traerán otros.
Después de la construcción de la obra, compartiremos nuestras creaciones y reflexión sobre el proceso y el resultado. Este taller también provoca el pensamiento metafórico y la capacidad de sintetizar nuevas construcciones mentales en formas creativas.
◦•◦•◦•◦•◦•◦•◦•◦•◦•◦•◦•◦•◦•◦•◦•◦•◦•◦•◦◦•◦•◦•◦•◦•◦•◦•◦•◦•◦•◦•◦•◦•◦•◦•◦•◦•◦•◦
Reseña del estudiante: «Con mucha incertidumbre, llegué a este taller recomendado por un par de amigos que conocían al artista. Con un poco de ayuda, me sentí cómodo experimentando con objetos y entendiendo mi propia creación y cómo reflejaban esto no lo había previsto «
◦•◦•◦•◦•◦•◦•◦•◦•◦•◦•◦•◦•◦•◦•◦•◦•◦•◦•◦◦•◦•◦•◦•◦•◦•◦•◦•◦•◦•◦•◦•◦•◦•◦•◦•◦•◦•◦
UBICACIÓN: el próximo taller se llevará a cabo en el último piso de Raima, que es una tienda de arte de propiedad familiar, especializada en papel y otros materiales artísticos únicos. Es un espacio sociocultural concebido como punto de encuentro de artistas y creativos. Es un salón de usos múltiples, abierto, con grandes ventanales, terraza, lindo bar y espacio creativo para la expresión.
Perfil:
La pintora Hannah, es una artista emergente galardonada profesionalmente, maestra, madre y amiga. Con un Master en Artes (MFA) de la Universidad de Barcelona. Sus obras se muestran en exposiciones colectivas e individuales en Europa e Israel. Actualmente se ubica en Barcelona dónde tiene su estudio MOFUTA studio gallery" desde 2016.