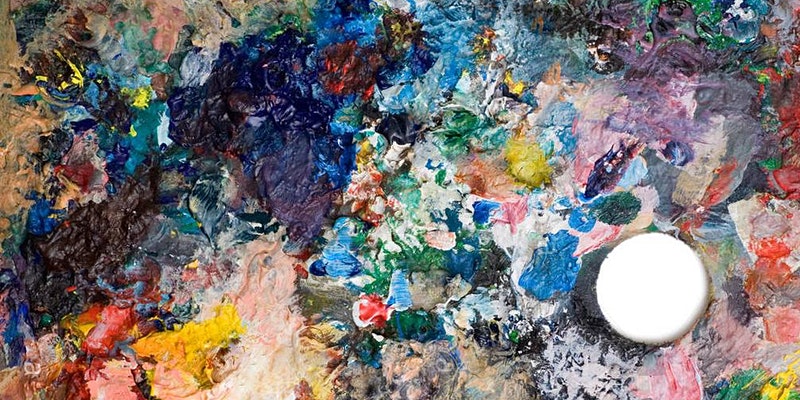 Art Workshop 1/3 – Color Experimentation
Color Theory – Experimental Workshop / Teoria del color `[ENG/ESP]
Acerca de este evento
Descripción en español abajo
Have you ever created a color you haven't seen before?
In this unique workshop, the international artist, Hannah Berestizhevsky, will introduce you to the amazing world of Colors.
Color theory is both the science and the art of using color. It explains how humans perceive colors, as well as the visual and psychological effects of color combinations. Colors are everywhere and all provoke a certain feeling, understanding color can allow anyone to create different sensations. During the workshop we will experiment with the color wheel and gain control in mixing and expressing with color.
◦•◦•◦•◦•◦•◦•◦•◦•◦•◦•◦•◦•◦•◦•◦•◦•◦•◦•◦◦•◦•◦•◦•◦•◦•◦•◦•◦•◦•◦•◦•◦•◦•◦•◦•◦•◦•◦
This workshop consists of 3 parts: theory | production | discussion.
After the theoretical introduction to the concept, the participants will create a color wheel using only primary colors, black and white acrylic paint. The complexity of the wheel depends on the advancement of the participants since there are infinity amounts of tones. Being able to make any shade you want creates a great sense of joy and confidence. After experiencing the color wheel there will be two activities offered to the participants. "Emotional painting" or "Color Matching".
Sometimes realizing the simplest things can help us comprehend deeper awareness.
◦•◦•◦•◦•◦•◦•◦•◦•◦•◦•◦•◦•◦•◦•◦•◦•◦•◦•◦◦•◦•◦•◦•◦•◦•◦•◦•◦•◦•◦•◦•◦•◦•◦•◦•◦•◦•◦
Student Review: » Hannah is not just an amazing artist but an incredible teacher who from day one guided me through the art experimentation and self-discovery through color. I'm grateful and can only recommend to anyone brave enough to have a great time»
◦•◦•◦•◦•◦•◦•◦•◦•◦•◦•◦•◦•◦•◦•◦•◦•◦•◦•◦◦•◦•◦•◦•◦•◦•◦•◦•◦•◦•◦•◦•◦•◦•◦•◦•◦•◦•◦
LOCATION: the upcoming workshop will take place at the top floor of Raima, which is a family-owned art store, specializing in paper and other unique art materials. It's a sociocultural space conceived as a meeting point for artists and creatives. It is a multipurpose room, open, with large windows, terrace, cute bar, and creative space for expression.
Profile:
The painter and performer, Hannah, is a professional award-winning emerging artist, a teacher, a mother, and a friend.  With a Master of Arts (MFA) from the University of Barcelona, Spain. Her works are shown in group and individual exhibitions in Europe and Israel. Currently located in Barcelona where she has her studio "MOFUTA studio gallery" since 2016.
Click here to my personal website: artistic website
————————————–
Descripción en Español:
¿Ha creado alguna vez un color que no haya visto antes?
En este taller único, la artista internacional Hannah Berestizhevsky le presentará el asombroso mundo de los colores.
La teoría del color es tanto la ciencia como el arte de usar el color. Explica cómo los humanos perciben los colores, así como los efectos visuales y psicológicos de las combinaciones de colores. Los colores están por todas partes y todos provocan cierta sensación, comprender el color puede permitir que cualquiera pueda crear sensaciones diferentes. Durante el taller experimentaremos con la rueda de colores y obtendremos control al mezclar y expresar con color.
◦•◦•◦•◦•◦•◦•◦•◦•◦•◦•◦•◦•◦•◦•◦•◦•◦•◦•◦◦•◦•◦•◦•◦•◦•◦•◦•◦•◦•◦•◦•◦•◦•◦•◦•◦•◦•◦
Este taller consta de 3 partes: teoría | producción | discusión.
Después de la introducción teórica, los participantes crearán una rueda de colores utilizando únicamente pintura acrílica en colores primarios, blanco y negro. La complejidad de la rueda depende de cada participante, ya que hay infinidad de tonos.
Poder crear cualquier tono que desee genera una gran sensación de alegría y confianza. Después de experimentar con la rueda de colores, se ofrecerán dos actividades a los alumnos: "Pintura emocional" o "Combinación de colores".
◦•◦•◦•◦•◦•◦•◦•◦•◦•◦•◦•◦•◦•◦•◦•◦•◦•◦•◦◦•◦•◦•◦•◦•◦•◦•◦•◦•◦•◦•◦•◦•◦•◦•◦•◦•◦•◦
Reseña del estudiante: «Hannah no es solo una artista increíble, sino una maestra ejemplar que desde el primer día me guió a través de la experimentación artística y el autodescubrimiento a través del color. Estoy agradecido y solo puedo recomendar a cualquiera lo suficientemente valiente como para estar dispuesto a pasar un buen rato».
◦•◦•◦•◦•◦•◦•◦•◦•◦•◦•◦•◦•◦•◦•◦•◦•◦•◦•◦◦•◦•◦•◦•◦•◦•◦•◦•◦•◦•◦•◦•◦•◦•◦•◦•◦•◦•◦
UBICACIÓN: el próximo taller se llevará a cabo en el último piso de Raima, que es una tienda de arte de propiedad familiar, especializada en papel y otros materiales de arte únicos. Es un espacio sociocultural concebido como punto de encuentro de artistas y creativos. Es un salón de usos múltiples, abierto, con grandes ventanales, terraza, lindo bar y espacio creativo para la expresión.
Perfil:
Hannah es una artista emergente galardonada profesionalmente, maestra, madre y amiga. Con un Master en Artes (MFA) de la Universidad de Barcelona. Sus obras se muestran en exposiciones colectivas e individuales en Europa e Israel. Actualmente se ubica en Barcelona dónde tiene su estudio MOFUTA studio gallery" desde 2016.